123SMART - Articles in Newspapers - evaluation. Second semester first year SMART
FOFUCHAS WORKSHOP IN POLISH SCHOOL - OUR TOWN'S PORTAL
SPAIN:
EXPLAINING THE MEETING IN sICILY TO OUT SCHOOL TEACHERS:
News in our school Newsletter:
Conference about European projects , 26th June 2017
XERRADA 26.pptx
A Letter from 3 of our students to eTwinning National Service:
EUROVISION AT SANROMA SCHOOL:
Promoting eTwinning in our school:
Conference eTwinning 8th March, with some of our students speaking too :)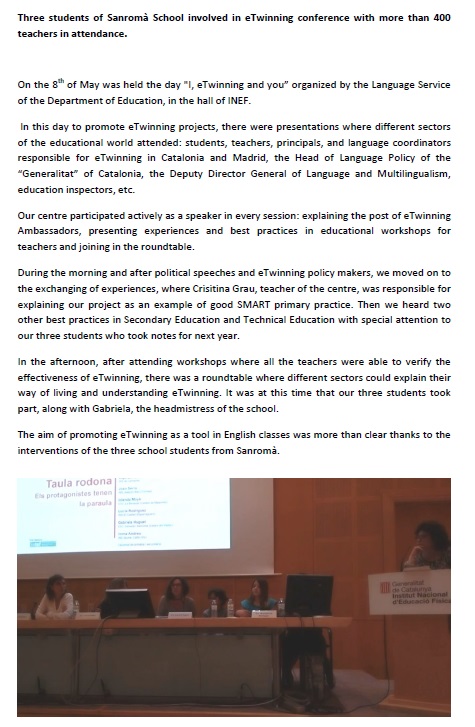 End of December and beggining of January. Our logos are in an exhibition in all Streets of Llinars del Vallès:
CLIL IN OUR SCHOOL:
28th January 2017. We talked about our SMART in a conference for teachers from all SPANISH comunities.
GREECE:
A meeting with students travelled to Barcelona and parents of our school to talk about our experience so far in this project.
CYPRUS
GRANDPARENTS DAY
ITALY SHORT NEWSPAPER ARTICLE
Lezioni di cretività
GREECE
Visit to Randazzo Italy 14-19th May 2017
Visit to Randazzo
Second visit to Sicily
Visit to Italy
GREECE
At the end of the school year (2016-2017) we had an end-of-the-year play based on the SMART project and this is one of the videos shown for the whole school community to see:
Discussions